Hair Care
Redken | 06/28/2020
TOPICS:
Expert Tips On How To Grow Your Hair Longer And Stronger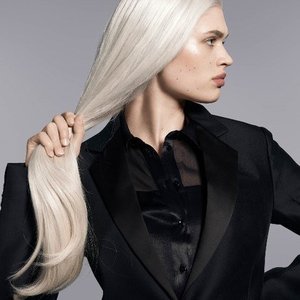 It can seem like watched hair never grows. Learn how to help your hair reach new lengths.
They say a watched pot never boils, and, similarly, it can seem like watched hair never grows. Whether you're experiencing scissor remorse or simply craving a longer style, there's no denying that waiting for your hair to grow can be a painstakingly long process (no pun intended). Happily, it no longer has to be. Ahead, stylists weigh in on the new Redken line that can help your hair reach new lengths by strengthening hair to reduce breakage, plus other suggestions for helping your hair grow longer.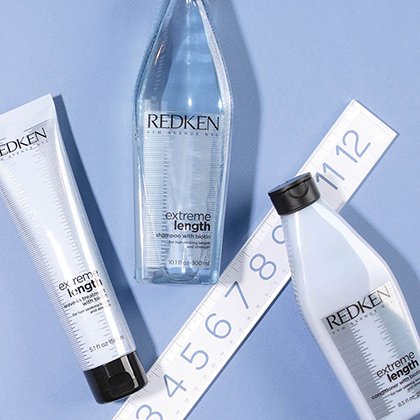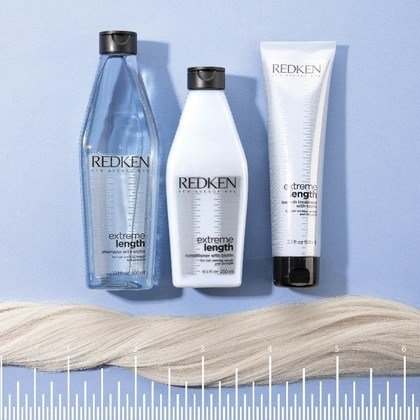 HOW CAN I GROW MY HAIR LONGER?
The best way to help your hair grow longer is to focus on a combination of internal and external factors, says Redken Artist Adina Doss. On the internal side of things, that means having a balanced diet rich in the vitamins and nutrients your body needs to be healthy – remember healthy hair has the potential to grow between 3-6 inches per year. Externally, that means paying close attention to the products you're integrating into your haircare regimen. It also means getting regular haircuts to keep your hair in its healthiest condition.
HOW CAN REDKEN'S EXTREME LENGTH SYSTEM WITH BIOTIN HELP GROW HAIR LONGER?
Meet the new Redken Extreme Length collection, which is specially formulated to help fortify hair to reduce breakage so hair can grow longer!

If you're seeking hair length and strength, the Redken Extreme Length system is for you! Extreme Length Shampoo is formulated with biotin, a vitamin that plays a key role in the health of the hair, and when used as a system with the accompanying Extreme Length Conditioner and Extreme Length Leave-In Treatment allows you to start fortifying and promoting healthy looking hair. The system also helps prevent and reduce the appearance of split ends, "Using this complete system from start to finish is a much better regimen than just using one leave-in treatment when you're looking to strengthen your hair." says Redken Artist Lindsey Olson.

And, again, stronger hair means potentially longer hair. It's an especially good idea to focus on using the conditioner on your mid-lengths and ends, which, if you regularly color-treat your hair, can be more susceptible to damage. "Hair color looks such as ombré and 'lived in ends' mean that the ends of the hair are getting lighter and lighter and you need something to help strengthen your lengths. The Extreme Length system is the perfect choice for that." says Olson.
HOW CAN I REDUCE THE APPEARANCE OF SPLIT ENDS WITH THE EXTREME LENGTH SYSTEM?
Split ends are the hair's arch enemy, particularly when you're trying to grow it out. Split Ends occur at the very tip of the strand when it's fragile and weakened, and, if not addressed, may keep you from growing your strongest, healthiest hair. Enter the Redken Extreme Length Leave-In Treatment, which when used as a system with Extreme Length Shampoo and Conditioner helps to both seal and reduce the look of frayed, split ends.
WHAT LIFESTYLE HABITS CAN HELP GROW HAIR LONGER AND STRONGER?
Aside from using this trio, there are a few lifestyle changes you can make when trying to grow your hair. Regular trims are important—to get rid of those aforementioned split ends—but you can actually go longer than you think in between trims. "Trimming every six to eight weeks is too soon. With a good haircut, you should be able to go three months or so," says Doss. "When you do get a trim, think about it more as just reshaping the style instead of losing actual length," she suggests. Hot tools can take a serious toll on hair too, particularly when you want to grow it out. Try to minimize heat styling as much as possible, or, at the very least, make sure to use a heat protectant product, such as Redken's Iron Shape 11 every time you heat style your hair.
Want to book in your next trim or find Extreme Lengths in salon? Click
here
.