Hair Colour
How To Bleach Your Hair Without Damaging It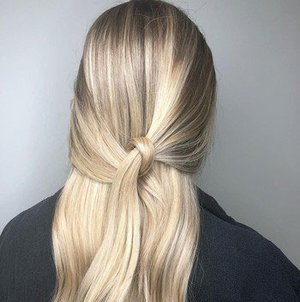 Whether you're a natural blonde looking to go blonder, or a brunette wanting to cross over to the brighter side, you're going to be lightening your hair. And while yes, this makes for a very pretty end result, all of that hair bleach can take a major toll on your tresses. The good news? It doesn't have to. Keep reading to learn more about how to (correctly) lighten your hair—spoiler alert, see a pro—so that you can have the colour of your dreams, without sacrificing the integrity of your hair.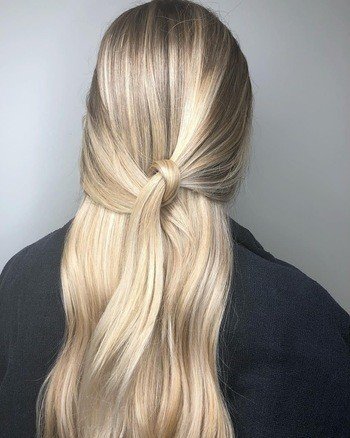 WHAT ACTUALLY HAPPENS WHEN I LIGHTEN MY HAIR?
Lightening your hair colour is actually quite a complex chemical process that takes a high level of skill. To keep this from turning into a college-level chemistry class, think of it in two phases:
Part one: An alkaline ingredient in the colour (often ammonia), opens up the cuticle, the outermost layer of the hair strand. This allows for the hair lightener to get into the hair and do its thing, bringing us to..

Part two of the process. "A hair lightener breaks apart the pigment in your hair so that light is reflected through it and the colour looks blond. The pigment is still there, it's just broken up so much that you can't see it," explains Redken Artist Celene Dupuis.

The thing about this chemical process is that every time a hair lightener or hair bleach breaks down these pigments, it also breaks up fifteen to twenty percent of the disulphide protein bonds in your hair. Since your hair is made up of 80 percent protein, this step cannot be done without knowing how to combat this protein loss (which would present as some pretty intense damage). This brings us to the most important part...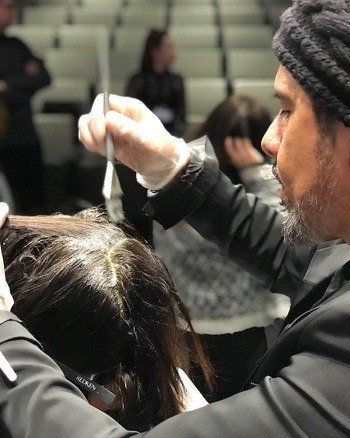 ALWAYS SEE A PROFESSIONAL HAIR COLOURIST TO LIGHTEN YOUR HAIR
Repeat after us: I will not bleach my own hair. This is most definitely not the time to DIY as a lightening service has to be done just right to prevent major damage to your hair.

"It requires lots of care and skill to make sure that the hair lightener is being applied correctly and in a timely fashion so that you don't end up with excess breakage," she explains. Not only will a professional colourist know how to do this, they can also help you come up with a progressive lightening plan. Especially if you're making a drastic change, it's absolutely better to gradually lighten your hair in phases.

"This keeps the hair healthier, so you can ultimately push the colour further and get a better end result," Celene says. Depending on how light you want to go, this can mean spacing your colouring appointments at least six weeks apart, if not more.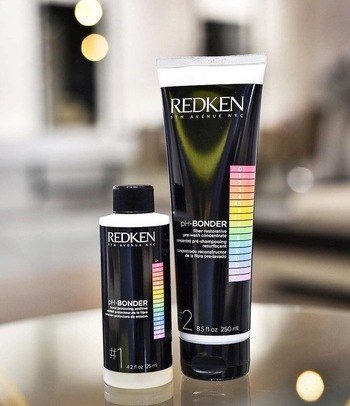 THE RIGHT PRODUCTS CAN MAKE ALL THE DIFFERENCE
The other benefit of seeing a pro? PROducts. (Get it?) "Colourists can add Redken PH-Bonder directly into the hair lightener, which will help protect those protein bonds from damage," says Dupuis. "It can make the difference between it taking six sessions to get the colour you want, versus three."

Speaking of products, the right at-home treatments are also crucial. Celene recommends the Redken Extreme Cat Protein Reconstructing Hair Treatment Spray. Whenever you use hair bleach, a chemical called cystic acid is produced, which is what breaks down the hair; this spray-on, leave-in treatment neutralizes that damaging acid. As if that weren't enough, it also evens out the porosity of the hair, so you end up with a more even colour and tone, she adds. Her stylist secret: Start using it even before you colour your hair, after every third shampoo for the month prior to your appointment. Then, use it every second shampoo post-colouring.

Another top product pick is the Redken Extreme Length Sealer Split-End Treatment. With both protein and biotin, it's choice for helping to strengthen the hair, and an especially good option if your strands are both long and light. Try using that after every second shampoo, applying on damp or dry hair, focusing on mid-lengths to ends.
Find a local Redken Hair Colourist to talk about your personalized lightening service.

And for more blonde hair colour inspiration and tips on how to maintain your hair colour between salon visits, follow @Redken on Instagram!