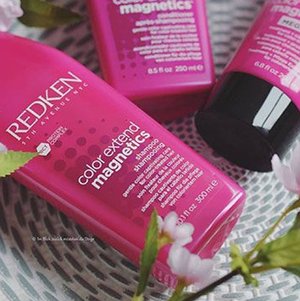 Hair Care
The Best Care Products for Your Unique Colour Treated Hair
30/06/2019
Choosing the right product for your colour-treated hair can be confusing. Different hair colour services have different effects on different hair types, but talking to your stylist about your hair health and colour goals will help you find the service or routine tailored to you. To help get you started, we talked to expert Redken Artists and colourists to explain in which circumstances you need which colour care products, and how to use them to achieve your best possible hair. Don't forget that keeping your hair colour looking it's best doesn't end with shampoo and conditioner! Using a vinegar rinse for hair helps boost shine.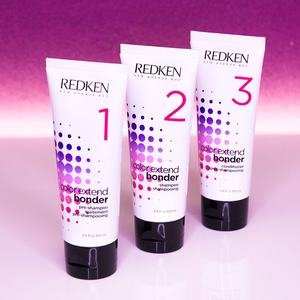 What Is Color Extend Bonder?
Color Extend Bonder is a three-step, intensive at-home treatment for colour-treated hair. Redken Artist Marie-Eve Raucher says it's a guarantee that clients will go home from a colour service and need a little bit more protection for their hair - especially two weeks after a service, when hair is in its most fragile state post-colour treatment.
What Does Color Extend Bonder Do?
Redken Artist Cody Mittendorf says that Color Extend Bonder keeps your colour lasting longer, your hair bonds strong and sealed, your pH bonds replenished and your overall look much shinier and prettier.
How Do I Use Color Extend Bonder?
Color Extend Bonder is an at-home treatment you can use two weeks after your colouring service, and then every two weeks after that. The first step is a pre-shampoo treatment that you apply to damp hair and massage all over the hair, from root to end, leaving on for about five minutes before rinsing out. Then comes the shampoo and conditioner steps, which you'll use just as you would a regular shampoo.
"It's a premade regime that keeps your color lasting longer and keeping bonds within the hair strong," Cody says. It's important for the condition of hair and colour to have a regime and as Colour Extend Bonder is only every two weeks, it's super easy. You get 100 percent results if you follow through with it."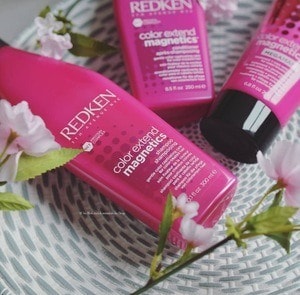 What Is Color Extend Magnetics?
The Color Extend Magnetics Collection includes shampoo, conditioner and a mask from Redken's line of SMART hair care. These products use a three-protein complex of soy protein, arginine and sepicap, put together to protect your colour.
What Does Color Extend Magnetics Do?
Color Extend Magnetics shampoo is sulfate-free, so it doesn't dry out the hair or strip it of any natural oils that keeping hair healthy & vibrant. The mask gives your hair the intense, deep conditioning it needs to keep your colour lasting longer.
Who Is Color Extend Magnetics For?
Redken Artist Marie-Eve Faucher says Color Extend Magnetics products are perfect for those with healthy, colour-treated hair, who want to keep up their hair's health and extend their colour.
How Do I Use Color Extend Magnetics?
Replace your shampoo and conditioner with Color Extend Magnetics. With regular use they will help to extend your colour, Cody says. Add the mask into your regime if you're in need of some extra conditioning, maybe every third wash, applying it to towel-dried hair after it's been shampooed. Leave it on for three to five minutes, and then rinse.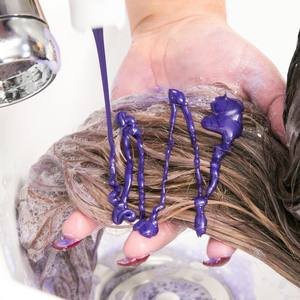 What Is Color Extend Blondage?
Color Extend Blondage acts as a toner for blonde hair in between services, keeping it from fading or getting too brassy in colour. "It has built it protein & toning capabilities, so your blonde clients can fight breakage and fading," says Cody. Its purple tint cancels out any unwanted yellow tones that may come up in between colour services.
Who Is Color Extend Blondage For?
Colour-treated blondes should use Color Extend Blondage.
How Do I Use Color Extend Blondage?
Use Color Extend Blondage Shampoo & Conditioner in place of your regular shampoo and conditioner once or twice a week. It's as simple as that!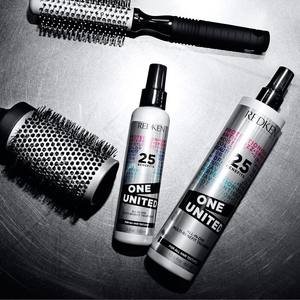 What Is One United?
One United is an all-in-one, multi-benefit, lightweight spray. It's made with a cationic complex which has positive charges to help bind to the hair. It also includes keracare to protect from hair from heat, and ever-fabulous coconut oil to extend vibrancy. "It's great to protect your hair from pretty much anything," Cody says. "One United is like the miracle treatment that helps with everything."
Who Is One United For?
Anyone can use One United! However, this product is especially good for those who bleach or colour their hair, and are prone to tangles post-shampoo and conditioning.
How Do I Use One United?
Use it on damp post-shampooing and conditioning hair, to prep it for styling and hot tools. A few spritzes will do the job. Try it in between washes to give blowout or styled hair a little refresh. Mix it into a mask or leave-in treatment. Try it as a detangler or, if your hair is super fine, use it as your conditioner - just be sure to rinse it out.