Hair Care
How To Keep Your Colour Treated Hair Healthy & Beautiful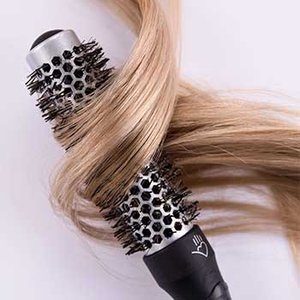 You've just left the salon with a fresh new hair colour and you're feeling amazing. Armed with a fabulous new look, you're ready to take on the world with a pep in your step and a newfound sense of confidence. Yet whether you're experimenting with Balayage or ombre for the first time, or opting for a more dramatic look such as platinum blonde or silver, your colour-treated hair will require a special type of care to stay strong, bright and beautiful in between salon visits.

Read on to discover the must have products and services you'll need to keep your colour-treated hair vibrant and healthy, so you can make that fresh-from-the-salon feeling last!
HOW DO I KEEP MY COLOUR TREATED HAIR FROM TURNING BRASSY?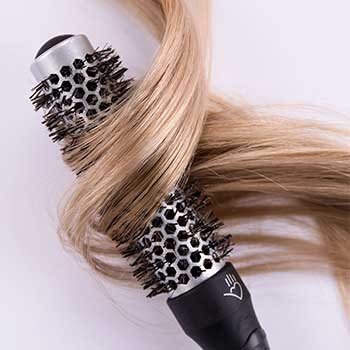 The battle against brassy hair actually begins before you leave your colourist's chair. In order to prevent the unwanted yellow and orange undertones that can often appear on highlighted hair in between salon appointments, it's essential to incorporate a hair toner into your hair colour service. A hair toner, such as Redken's Shades EQ Gloss demi-permanent hair colour, cools down and enhances the tone of your highlights to help you achieve the exact colour you're looking for. Redken Shades EQ hair gloss also works to balance the hair's Ph level, condition the hair, and increase shine, which in turn helps keep the hair healthy and strong.
A Shades EQ gloss service is also a quick, easy way to refresh and tone your hair colour in between your regular salon appointments. If you begin to notice brassy tones a few weeks after your hair colour service, call your stylist and ask to schedule an appointment for a Shades EQ gloss. In just 20 minutes, you'll leave the salon with brass-free strands and high-gloss shine.
WHAT SHAMPOO IS BEST FOR COLOUR TREATED HAIR?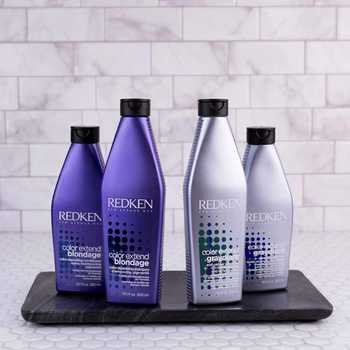 tone of your hair colour. If you have blonde or silver colour-treated hair, a colour-depositing purple shampoo will help cancel out any yellow or brassy tones, keeping your colour cool and bright. Redken's Colour Extend Blondage system is an excellent regimen for cool blondes while the Colour Extend Graydiant system is best for grey or silver colour-treated hair.

"Redken's Color Extend Blondage Shampoo and Conditioner is amazing in that it addresses two common concerns for blondes: toning and breakage.", says Redken Artist Woodward Bartlett, "Blondage shampoo deposits violet pigment which helps to cancel out brass. The system also features the Triple Acid Protein Complex which helps strengthen fragile hair, fight excessive porosity, breakage and many other blonde hair woes! With Color Extend Blondage, blondes don't have to choose between maintaining tone and keeping the hair strong. You get both benefits with one product."
"With the Graydiant system, those with silver colour-treated hair can gently cancel any yellow tones with the violet- depositing Graydiant Shampoo. The Graydiant conditioner actually deposits silver pigment into the hair for a gorgeous, titanium end result. It's a true game-changer for silver hair."
WHY IS DRY SHAMPOO IMPORTANT FOR COLOUR CARE REGIMENS?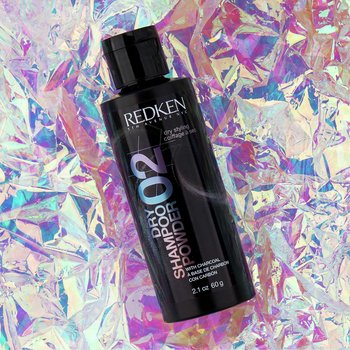 Dry shampoo is an excellent tool when it comes to keeping your ideal tone intact. Regularly incorporating a dry shampoo is a great way to reduce your number of weekly washes and prevent hair colour fade. Redken's Dry Shampoo Powder 02 is a lightweight, loose powder dry shampoo formulated with Charcoal as a key ingredient to help absorb oil and keep hair feeling clean and refreshed. It's a must-have tool for every colour-care regimen.